Hello, everyone I am Chifumi Maeda, a Japanese female president living in Bangkok.
Thank you, guys, for visiting this
"True comments from Japanese female presidents living in Thailand" blog.
We hear a lot about people talking about French restaurants, Italian restaurants, Japanese restaurants,
and of course Thai restaurants but it's quite rare that you hear about New Zealand restaurants. Or not?
And I must confess that I did not know much about New Zealand food until I came across a restaurant called KAI.
Today, I would like to talk about the one and only one New Zealand Restaurant called KAI.
I was told that KAI means "Maori dishes" in their local language.
New Zealand's specialty dishes
New Zealand, together with Australia, has a lot of immigrants from England
therefore their cooking has its roots in England.
The famous one is Fish & Chips. Right?
In this Kai, Fish & Chips is also one of their specialty dish and they pronounce it Fush & Chups.
Based on white fish, there are 4 ways (Battered、Crumbed、Pan-Fried、Tinfoil-Steamed) of preparing the dish.
You can choose chips from 3 different preparation way
which are Hand Cut Fries (Skin On), NZ Chips Standard Cut , NZ Chips Thick Cut.
I like Hand Cut Fries (Skin On).
Ask the restaurant staff and they will be happy to give you an advice which fish is best with which way of preparation.
New Zealand is an island country surrounded by the sea and therefore they have plenty of fish of course,
but also it's an agricultural country with a thriving dairy and livestock industry.
The country is also known for many producers being environment friendly.
Characteristics of KAI
Ingredient procurement is from carefully selected suppliers
They are very particular about homemade items.
All the ingredients that KAI offer is coming from free-ranged or semifarming as much as possible and organic,
non-chemically grown, and sustainable farming farmers those ethical considerate producers.
Particular about homemade.
Bread, ice cream, sauce, relish, pie, pizza, biscuit, sausage, and many other foods are all homemade.
You can also enjoy here nice wine as well as beer from New Zealand.
It is good fun just to look at the menu too as it mentions the preparation way
in detail and there are a lot of different foods that they serve.
One of my favorite food is mussels and here at KAI,
they steam boil them in a New Zealander beer.
They taste very nice and quite different taste from the ones cooked in butter sauce or white wine.
Every dish here lets you enjoy with your eyes and mouth.
The restaurant
There are outside tables and inside tables. The inside tables are on the ground floor and 2nd floor.
The warmth of the wooden surroundings and warm colored lighting relaxes you.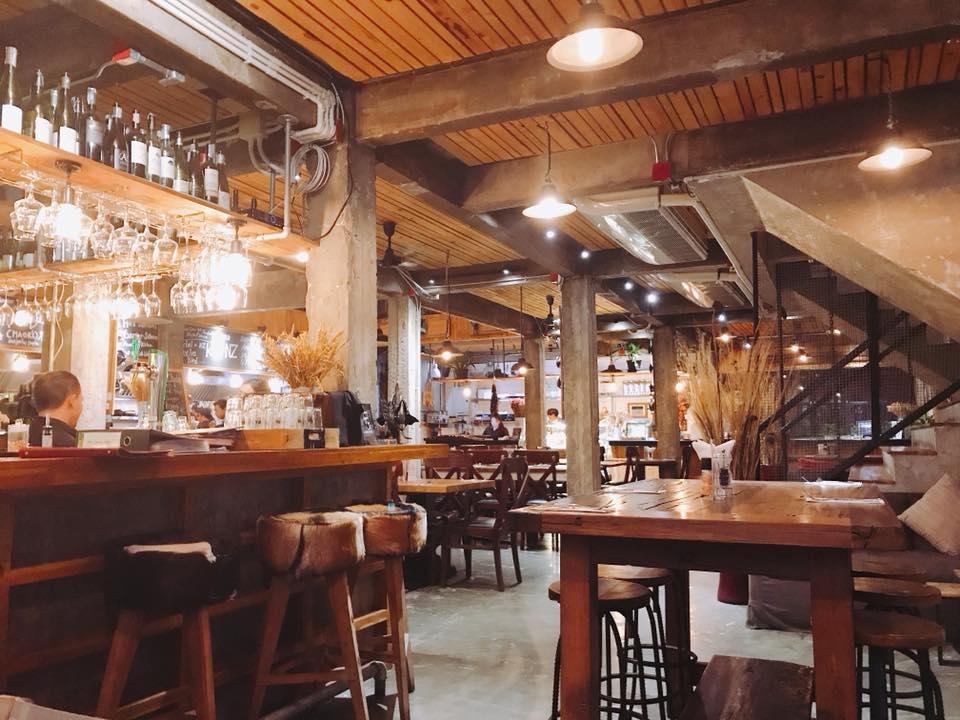 Weekdays are filled with people coming back from work and on the weekends,
family and dating couple can be spotted.
It is always full with happy diners.
There are many service staffs and they are very fast with their service.
But if you are looking to dine in a nice and moody restaurant,
this may not be the place but if you want to fill your tummy with good food,
or want to have a jolly good time with family and friends, this is the place you must try.
Information on KAI
Location:142 22-23 Sathon Soi 12 Alley, Khwaeng Silom, Bang Rak, Bangkok 10500
Parking place : Yes (parking place available in front of the restaurant)
Opening hours : Mon. – Fri. 16:00-23:00. Sat. Sun 11:00-23:00
HP:https://www.kai-bangkok.com/
Facebook:https://www.facebook.com/KaiNewZealand
IG:https://www.instagram.com/kainewzealand/?fbclid=IwAR34eTq-WQMYVuT85sNTc3GcKDYzQxWlwPnJVbCc7g9BV-Qx6hrzoS3qBcU