Hello, everyone I am Chifumi Maeda,
a Japanese female president living in Bangkok.
Thank you, guys, for visiting this
"True comments from Japanese female presidents living in Thailand" blog
I am going to talk to you about CORAN BOUTIQUE SPA @ Pattaya today.
This is the spa that I made it a rule to visit every time I come to Pattaya.
Outline of Coran Spa Pattaya
It is located about 5 km from the Beach Road in the City of Pattaya on Na Kluea Rd. Soi 16.
The area is one of the quiet residential neighborhoods in Pattaya.
Coran Spa Pattaya also is in this quiet residential neighborhood
and is in a very tranquil single standing house.
It also has its branch in Bangkok, in the Dream Hotel on Sukhumvit Rd. Soi 15.
As Coran Spa Pattaya is in a single standing house,
it feels very cool as the sea breeze runs the 1st floor reception. 
The treatment room is also having a calm atmosphere
and has its own toilet and shower.
If you went there and time allows,
I recommend you book a 2-hour or longer course.
When I stayed at the Birds and Bees Resort Pattaya that
I talked about in my pervious blog,
I had 2-hour course from Coran Spa Pattaya.
When you are at the spa  
You will first fill-out the registration form when you are at the Coran Spa Pattaya.
And then enjoy your tasty tea while waiting for your treatment.
Leave your shoes at the reception and change to inside slippers.
It won't be too long until the therapist comes to take you to the treatment room.
[Review] Coran Spa Pattaya
As I've booked myself for 2-hour Ayurveda course,
I filled out a question sheet for Ayurveda treatment.
Ayurveda treatment categorizes patient's constitution into 3 categories,
i.e., VATA (wind), PITTA (fire), and KAPHA (water)
and according to such energy the treatment is performed.
One of my favorite one from the Ayurveda treatment is the one that
pours oil between the eyebrows of my head (6th chakra), the "Shirodara".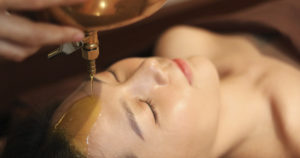 I am so crazy about this treatment,
so much so that if I have no other plans after a spa and happen to find Shirodara on the menu,
I will go for it without a hesitation.  
By the way, "Shiro" means "head" and "dara" means flush.
I've received two Shirodara courses which is the "Shirodara" that pours oil on the head,
and the course that has shoulder massage and full-body oil massage. 
Coran Spa Pattaya also has normal massages and facials,
but their course menu is well established.
If your schedule permits,
I recommend you get yourself the course menu
to unwind your mental and physical tension.  
Needless to say that the therapist's ability is at the highest standard,
but also their manners and caring is very good,
and you can really have a nice time here.
It is a must try.     
Your time at the Coran Spa Pattaya will add an extra something to your trip.
They run course promotion quite often, so it is a good idea to check their Homepage.
Pros and Cons of Coran Spa Pattaya
Pros of Coran Spa Pattaya
Cons of Coran Spa Pattaya
Information on Coran Spa Pattaya
Place:291/4 Soi Na Kluea 16, Tambon Na Kluea, Amphoe Bang Lamung, Chonburi 20150
Open hour 10:00 – 21:00
Homepage:https://coranbangkok.com/
Facebook:https://www.facebook.com/coranboutiquespa
Tel: (+66)-038-225-299 or (+66)-098-604-7161
Parking:Available
GoWabi
Gowabi, a one-stop destination for all your beauty needs, discover and book the best beauty and wellness services around you. GoWabi is your one-stop destination for beauty and wellness services, discover the best places, book it anytime, anywhere, 24/7, and enjoy! You will never pay extra by booking your next treatment with GoWabi, our services is always free of charge!