Hello, everyone I am Chifumi Maeda,
a Japanese female president living in Bangkok.
Thank you, guys, for visiting this
"True comments from Japanese female presidents living in Thailand" blog
SUSTANIA Organic Restaurant a pioneer organic restaurant in Bangkok is
what I'd today like to talk to you about.
It is so famous, so much so that no Japanese wives that live in Thailand
do not know about the restaurant.
But the organic shop may be is more well-known than the restaurant. 
It is located on the beginning of Sukhumvit Soi 39
and is close to BTS Phrom Phong, an easy to access location. 
Ok, so let me begin talking on SUSTAINA Organic Restaurant.
History of SUSTAINA Organic Restaurant
The shop is run by Harmony Life International Co., Ltd.
And is consisting of the following 3 forms.
In 1999, Mr. Oga a capable trading house employee at the time
started the business from scratch,
i.e. from the soil making aiming for harmony between people and nature.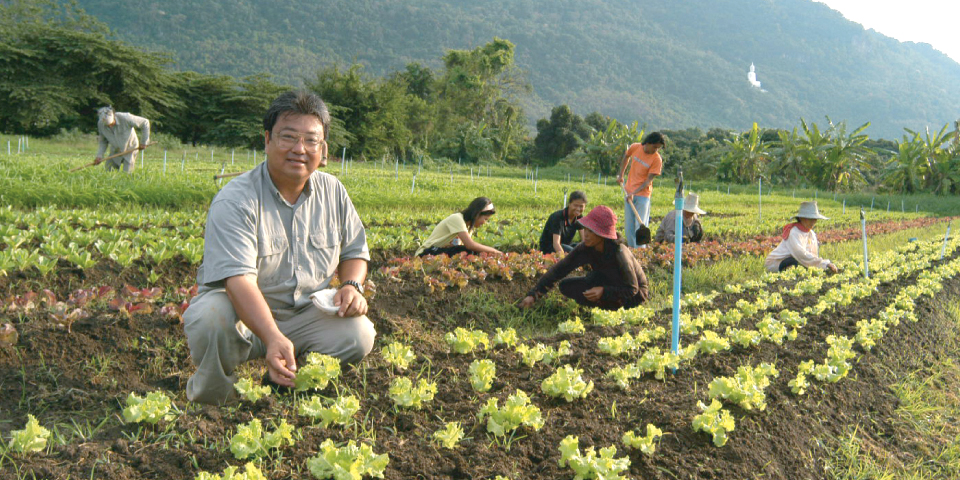 It is a wonderful message that I want to share it with all of you.
In the past, human being were only about themselves,

without any consideration for the other living creatures around them such as the birds,

the fish and the plants.

It is for this reason that we have destroyed our natural surroundings

and in so doing causing the rivers to become polluted,

the soil to be destroyed by chemicals

(Synthetic Substance, Surfactant Substance, and so on.)

These chemicals become absorbed into many of the products

which are consumed by humans, and these causes many diseases

we commonly see around us such as allergies,

the viral infection and skin disorders etc.

We also realize that it is clear that if we wish to live happier and healthier lives,

we need to live in harmony with nature.

This is the challenge that we face:

How can we optimally live in harmony with nature?

For Harmony Life International Company,

we are involved in continuous research to develop our organic agriculture products

for humans consumption so to allow us to be in harmony with nature.

We constantly strive to move towards a more harmonious world in tune with nature law.

cited from: https://harmonylife.co.th/about/message/
Mr. Oga probably do not remember me at all however,
it was in the year 2000 before I started my own business,
we had common friend who I often had conversation
with in his Japanese restaurant that he was running at the time.
I remember him talking passionately about farming with his deep tanned face,
every time I eat at the SUSTAINA Organic Restaurant.  
[Review] SUSTAINA Organic Restaurant
Atmosphere of SUSTAINA Organic Restaurant
SUSTAINA Organic Restaurant is located on the 2nd floor of the organic shop.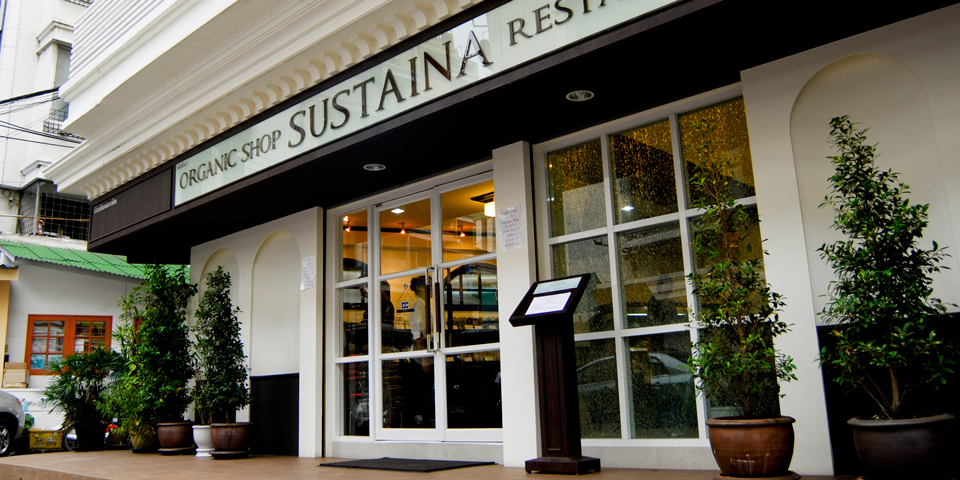 Seats are just about 40.
Consisted from tables for 2 and tables for 4.
They have baby chairs for those who come with little children.
Inside of the restaurant is wood tone,
very calm atmosphere and the sunlight from outside makes the space bright.  
How are the foods there?
Meals are based on the principle of local production for local consumption,
and most of the ingredients are from Thailand.
As it is an organic restaurant, they basically do not use any pesticides.
And the seasonings that they use are carefully selected and natural salts and
unbleached sugar are used and of course,
they use no chemical seasonings or preservatives.     
The restaurant offers dishes using natural meat and fish,
and the vegetables are from their own farm.
The dishes of SUSTAINA Organic Restaurant are colorful and beautiful
to look at and every dish stimulates our appetite. 
There are over 50 different dishes and also A la carte menu.
The set menu comes with rice or bread that you can choose from.
The rice is grown in Thailand with no pesticide used.
The bread is natural yeast bread.
The foods at SUSTAINA Organic Restaurant are seasoned just right,
bringing out the natural taste of ingredients
thus from a child to an elderly person, everyone can enjoy.
Out of so much menu, I would personally recommend "soba noodles".
There are so many Japanese restaurants in Bangkok
and restaurants specialized in soba are also a lot.
I prefer SUSTAINA Organic Restaurant than those specialized in soba because the taste is better.
You can buy soba at the organic shop on the 1st floor,
and I make it a rule to buy them every time when I am there at the shop.
In the SUSTAINA Organic Restaurant,
they serve both non-alcoholic beverages and alcoholic beverages.
I often order "Ginger Soda".
I have weak bronchi and am prone to catching colds,
so I try to eat ginger as much as possible.
What catches everyone`s eye is the "lime" that is in the drink.
The diameter of a lime is normally about 3cm
but this one is grown with no pesticides and is as big as one`s palm.
It looks almost like a "Pomelo" from its size but it tase as a lime.
All of the ingredients served at SUSTAINA Organic Restaurant are selling at the organic shop downstairs.
The Budget
Set menu and drink will cost you around 500 baht.
Desserts are available from 40 baht.
Lunch and Dinner price are same.
Pros and Cons of SUSTAINA Organic Restaurant
Pros of SUSTAINA Organic Restaurant
Cons of SUSTAINA Organic Restaurant
Information of SUSTAINA Organic Restaurant
Place: 1/40 Sukhumvit 39, Bangkok(5 min walk from BTS Phrom Phong)
Open daily 10:00 – 20:30
Tel: (+66) 2-258-7573
Parking:able to park at in front of restaurant
Email: sustaina.bkk@gmail.com
HP:  https://www.facebook.com/SustainaOrganicRestaurant/
GoWabi
Gowabi, a one-stop destination for all your beauty needs, discover and book the best beauty and wellness services around you. GoWabi is your one-stop destination for beauty and wellness services, discover the best places, book it anytime, anywhere, 24/7, and enjoy! You will never pay extra by booking your next treatment with GoWabi, our services is always free of charge!