Hello, everyone I am Chifumi Maeda,
a Japanese female president living in Bangkok.
Thank you, guys, for visiting this
"True comments from Japanese female presidents living in Thailand" blog
900km to north from Bangkok.
Most north of Thai territory, Chiang Saen in Chiang Rai province,
Anantara Golden Triangle Elephant Camp & Resort is located,
that's where we went this time.
Chiang Saen as we all know that it is called the Golden Triangle,
bordering Thailand, Myanmar and Laos by the Mekong River and the Ruak River.
Exploring Chiang Rai's Rich History
Chiang Rai was once the first capital of
the Lanna dynasty (13th-18th century) that ruled northern Thailand.
Even now, the unique culture and traditions of northern Thailand,
called "Lanna Culture", remains.
In Chiang Saen, where we stayed this time,
there are many ruins from the Lanna dynasty era,
and many hill tribes live there forming their own culture.
Trade along the Mekong River has flourished since ancient times
and is also an international city where the cultures of China, Myanmar, Laos,
and hill tribes have fused.
You can get a glimpse of the climate and culture that is different from the capital Bangkok.
The Intriguing Story of Anantara Golden Triangle Elephant Camp & Resort
This time we stayed at Anantara Golden Triangle Elephant Camp & Resort in Chiang Saen.
Anantara Golden Triangle Elephant Camp & Resort is
located approximately 60km north of Chiang-Rai Airport, an hour's drive away.
As I've mentioned earlier, it is in the border town of Chiang Saen.
Anantara Golden Triangle Elephant Camp & Resort is built along the Ruak River,
where you can see Myanmar on the opposite bank and Laos beyond that.
There are 40 rooms, 15 suites and 6 family suites spread across 165 acres.
Contrary to the size of the site,
as there are few guest rooms, it is a comfortable stay.
We stayed taking advantage of the
"GOLDEN TRIANGLE LUXURY EXPLORER ADVANCE PURCHASE PACKAGE",
which includes 3 meals, 1 activity (spa, elephant camp, cooking, etc.)
and airport transfer for 1 night stay.
Public areas such as the lobby are also spacious,
with high ceilings and airy structures.
You can see beautiful Lanna-style paintings everywhere,
and it's fun to look at them while taking a walk around.
As the name Anantara Golden Triangle Elephant Camp & Resort suggests,
there is an Elephant Camp on the premises and currently 20 elephants are protected.
Anantara Golden Triangle Elephant Camp & Resort runs an eco-friendly hotel management
and actively engages in nature conservation activities through elephant conservation activities.
Stay packages are available that include a variety of activities
when you stay at Anantara Golden Triangle Elephant Camp & Resort.
Among them, activities at Elephant Camp are included.
I have been living in Thailand since 1998 and I saw elephants several times
but at Anantara Golden Triangle Elephant Camp & Resort,
I was able to see the elephants in their natural state
as they are protected in a close to natural environment,
which was an indescribable and precious experience.
A Detailed Stay Review: Anantara Golden Triangle Elephant Camp & Resort
Immersive Room Experience at Anantara Golden Triangle Elephant Camp & Resort
Anantara Golden Triangle Elephant Camp & Resort has 3 room categories outlined as below.
The area is 32sqm.
It has a private balcony.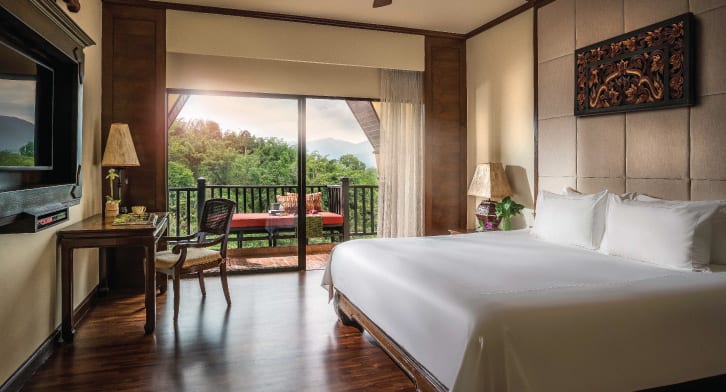 The area is 64sqm.
It has a private balcony and living room.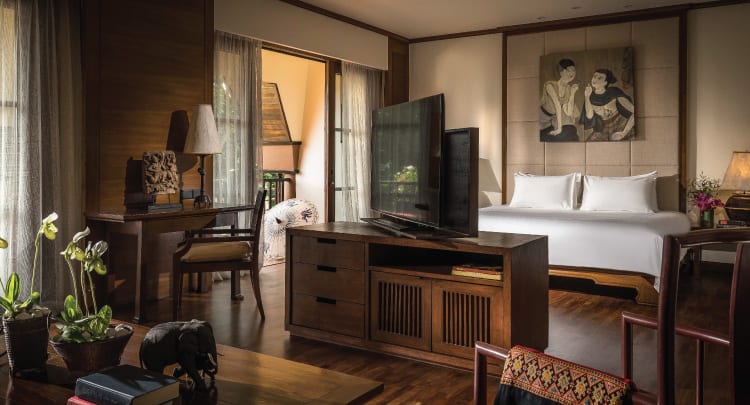 The area is 96sqm.
It is a twin room so that groups such as families can stay.
It has a private balcony and living room.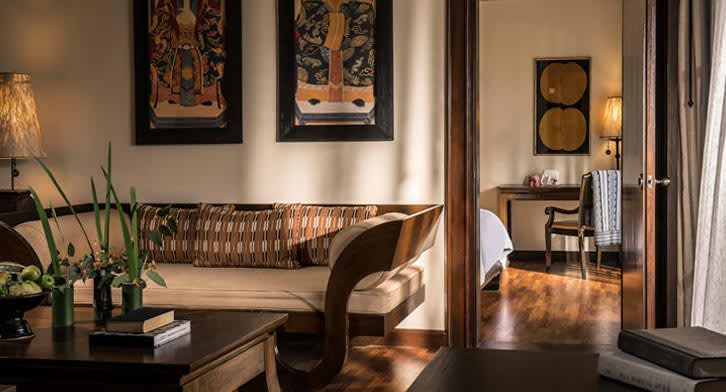 Choose your room according to the number of guests and budget.
Basically, you can see Myanmar and Laos from any rooms.
This time we stayed in the Three Country View Suite.
We chose this room because my hubby and I wanted to relax in the living room.
Three Country View Suite has a large balconies and views of Myanmar's mountains.
On the day when we stayed, it was cloudy due to the field burning,
and we could barely see Laos beyond the mountains.
Compared to Bangkok, as it is less humid and drier,
and the temperature is about 4 degrees lower, we felt very cool.
Air conditioning was not necessary during the stay,
and when we opened the window, a cool breeze came in and it was very comfortable.
As there is a screen door, no need to worry about mosquitoes coming into the room.
I was healed in mother nature, overlooking the vast jungle,
listening to birds singing,
that we cannot hear in Bangkok and beautiful butterflies.
And sometimes we could hear elephants crowing.
There is a binocular in the room,
so I went out on the balcony and watched the elephants.
The room was equipped with a closet which easily stored our two suitcases,
we were able to use the spacious living room all to ourselves.
The bathroom was also very large,
and the hot water was available without any problem,
and the hot water filled up quickly,
so I enjoyed taking a bath in the spacious bathtub.
The beds are moderately firm and there is a pillow menu
so you can order the pillow that you prefer.
I do not like soft pillows, I ordered a "buckwheat shell pillow".
The bed was made and cleaned every day,
and there was a turndown service during our dinner,
so our stay in the room was very comfortable.
In addition, the laundry service was easy to use, which was 1,000 baht for 15 pieces.
If you are staying for a long time, you may also want to use the laundry service.
Culinary Delights: The Resort's Restaurants Reviewed
There are 3 restaurants.
Their features are as follows.
All Day Dining offers buffet style breakfast, lunch and dinner.
For the accommodation package,
we were able to ask for the SALA MAE NAM menu
and the ELEPHANT BAR AND OPIUM TERRACE menu.
In the morning, an international buffet is served, and hot meals are made to order.
SALA MAE NAM was quite windy, and I was able to eat in a cool and comfortable way.
Lunch and dinner are basically Thai dishes.
In addition to Northern Thai cuisine, they also serve local Laos and Myanmar dishes.
There is also a classic "Khao Soi" of northern Thai cuisine. (The picture above)
Coconut milk and curry flavored soup with noodles on the bottom and fried noodles on top.
Squeeze the lime and Bon Appetit.
I always have them when I stay in northern areas such as Chiang Mai and Chiang Rai.
A reservation-only Italian restaurant.
The restaurant specializes in Tuscan cuisine in Italy.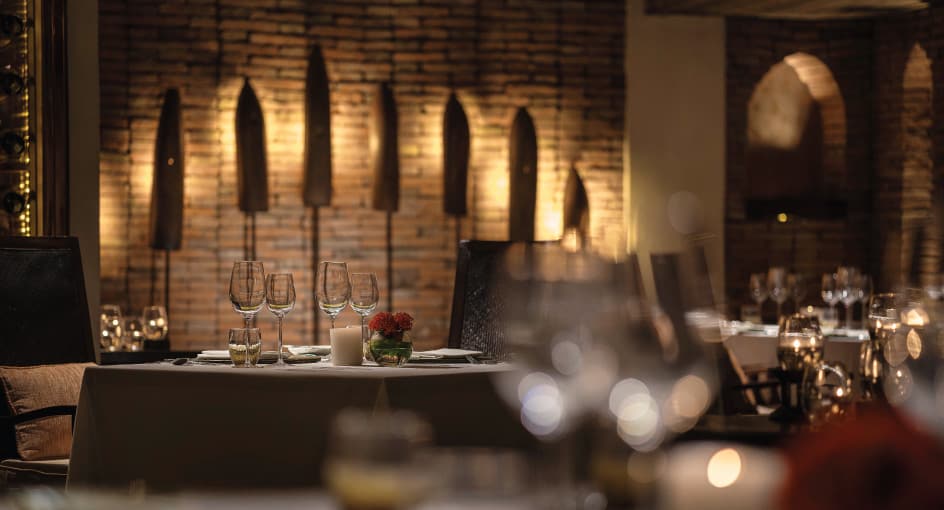 I didn't have a chance to visit the restaurant during my stay,
but the pizza I ordered via room service was very delicious,
and I'm sure this restaurant will also serve great foods.
Bar serving light snacks and drinks.
The menu was mainly Western food, and none of the menus were light meals,
but rather a large portion.
The seasoning of foods in the restaurant is light
and can be enjoyed by both Thais and foreigners.
Northern Thai cuisine is particularly spicy,
but if you ask the staff, they will adjust the spiciness.
I think you can have the food with no worries.
However, every dish comes with a large portion,
and my hubby and I don't eat that much,
so we shared one dish with the two of us.
Personally, I'm the type of person who likes to eat small amounts of many different items,
so apart from that point, I was satisfied.
Revitalizing Spa Experience at Anantara Golden Triangle
I had two aroma massages during my stay.
The treatment room is basically a room to be used in pairs,
but it is also possible to use it by one.
Equipped with closet, shower room,
and toilet therefore so you can receive a massage without leaving the treatment room.
There is a large bathtub on the balcony, and if you book a 2-hour course,
there is also a course that includes bathing,
so next time I would like to take a 3-hour course.
You can see the jungle from the treatment room,
entrust yourself to the soft massage bed,
and enjoy deep relaxation in silence.
My husband told me that the moment he lay face down on the bed,
his conscious flew away.
In short, it was so good that he lost consciousness.
Exploring Free Activities at Anantara Golden Triangle
This time we stayed using the
"GOLDEN TRIANGLE LUXURY EXPLORER ADVANCE PURCHASE PACKAGE",
so we were able to participate in one activity a day for free.
You can choose activities from the following list.
We chose a 1-hour massage at the spa and an activity at the elephant camp.
The spa has already been introduced earlier,
so now I will talk about the activities at the elephant camp.
Elephant Camp Activities: Walking with Giants Review
Anantara Golden Triangle Elephant Camp & Resort currently has 20 protected elephants.
Elephants have an average lifespan of 60 to 70 years,
and female elephants reach maturity at 14 to 15 years of age.
The gestation period is as long as two years,
and it is said that one female elephant will give birth to at most three in her lifetime.
They sleep about 6 to 7 hours a day,
and the rest of the time they eat to maintain their big size,
eating about 200kg a day.
As for activities at the elephant camp, if you are staying on a package,
you can choose from the following three activities.
Learn the history of elephants from a mahout.
You will also learn how to make medicinal herbs for rescued elephants.
Observe elephants and learn about their ecology.
Learn about elephant ecology and anatomy from a veterinarian.
Follow the elephant going for a walk.
Watch elephants as they eat, play in the mud and play in the water.
Among the three activities above, I chose Walking with Giants.
I have lived in Thailand for a long time and have touched elephants several times,
but I have only seen elephants performing at tourist spots.
This time, I saw elephants in nature and was captivated by their loveliness.
I followed the elephant walking and walk for about an hour
and a half and it was quite unique
because I saw somewhat a human-like in its behavior.
Elephants love to bathe, and as they bathe,
adult elephants watch-out for their young to protect them.
Bathing is done in the Ruak River,
and boats such as fishing boats pass through this river.
Elephants give a high-pitched cry when a boat passes by,
and the cry is said to be a warning call.
They scrape bark from trees and rub their bodies while walking.
It seems that there is their favorite tree,
and the tree that is frequently rubbed has a smooth trunk and a discoloration.
You can see the elephant walking from your room too.
I used the binoculars in my room to observe them every day.
Children can participate in this activity.
It will be an unforgettable memory of your trip;
I strongly recommend you give yourself a chance.
Premium Experiences: Paid Activities at Anantara Golden Triangle
Anantara Golden Triangle offers some paid activities
that are not included in the accommodation package.
Here are some of them.
Experience Jungle Bubble: Luxury Stay in Chiang Rai
It is a facility in the Elephant Camp.
You can stay from 16:00 in the evening until the next morning.
With complete shower room, toilet, bedroom and outdoor dining room,
you can see the elephants right in front of you.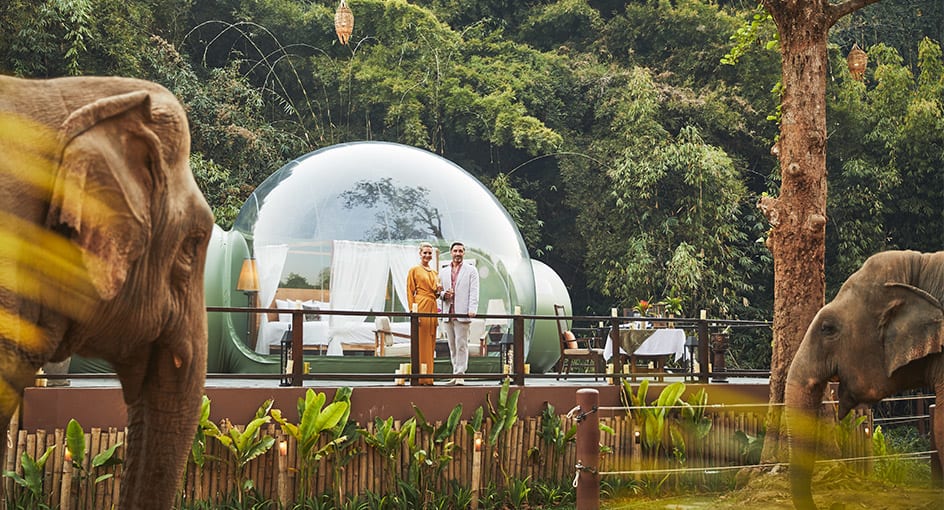 Exquisite Dining By Design: A Culinary Journey
Private dining can be set up by the riverside,
in the paddy fields, or in the elephant camp.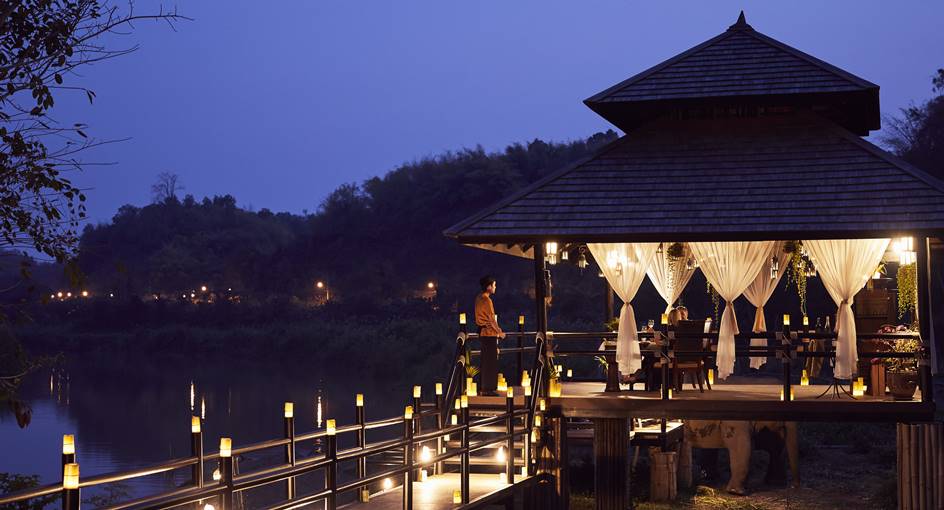 Adventurous Royal Enfield Sidecar Excursion
I participated in this Royal Enfield Sidecar activity with my hubby during this stay.
I rode the Royal Enfield Classic 500 from the world's oldest motorcycle manufacturer, Royal Enfield,
and toured around Chiang Saen.
The motorcycle has a sidecar, and the hotel staff will drive you.
Riding on a sidecar, going around temples, seeing the Golden Triangle,
and visiting farms was a lot more fun than I expected.
Agriculture is thriving in Chiang Rai, taking advantage of the cool climate in the north.
We visited Min Farm, where they produce sticky rice, pineapple, corn, and more.
They also produce cannabis, which has recently become a hot topic.
Touring on the sidecar while feeling the wind
and air on my body was a very memorable experience.
It was a paid activity but I'm glad I participated.
The Pros and Cons of Staying at Anantara Golden Triangle Elephant Camp & Resort
Highlighting the Advantages of Anantara Golden Triangle
Addressing the Drawbacks of Anantara Golden Triangle
Chiang Rai's High Season: When to Visit Anantara Golden Triangle Elephant Camp & Resort
Seasons in Chiang-Rai are as the following.
November to March: dry season.
It does not rain, and the humidity is low, making it the high season for sightseeing.
It is not uncommon for the minimum temperature to fall
below 10 degrees Celsius in mountainous areas.
The average temperature in the morning is around 17 degrees.
It reaches up to about 24 degrees during the day.
However, since field burning takes place
from the beginning of December to the end of March, the air may be polluted.
April to late May: Hot season
The hottest time of the year.
The maximum temperature will be close to 40 degrees.
Late May to late October: rainy season
There is a squall peculiar to the southern country.
It is rare that it rains all day, but it is like a local heavy rain.
It is also known as the Green Season as the rain during this period is a blessing for the trees.
Essential Information on Anantara Golden Triangle Elephant Camp & Resort
Place:229, Wiang, Chiang Saen District, Chiang Rai 57150
Homepage:https://www.anantara.com/en/golden-triangle-chiang-rai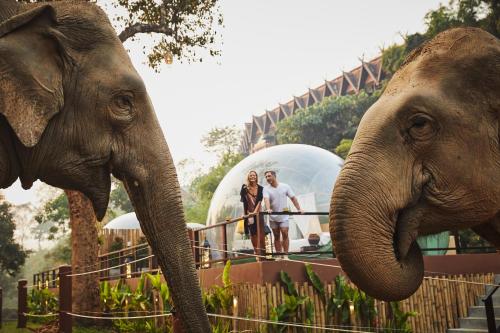 ↑Check price at agoda